OUR TEAM
Liz Canner
Founder, Director, Web Designer
Liz Canner is an award-winning filmmaker, artist, and writer who creates installations, public art, documentaries and interactive media projects intended to inspire positive change. As a trailblazer of experimental documentary technique, she often harnesses new media technologies to confront injustice and catalyze individual action.

Her projects are often collaborative and community driven.
Her most recent project,
Lost City of Mer
, is an award-winning cross platform smartphone app and VR experience about a magical underwater civilization devastated by climate change. It was presented at venues such as the
United Nations General Assembly Climate Summit
and The
NY Videogame Awards Night
. Critically acclaimed
Symphony of a City
focused on the housing crisis in Boston and was an early multi-platform interactive documentary.
Orgasm Inc.
,
a New York Times "Critic's Pick" about the search for the female Viagra drug, screened at over 70 film festivals, was theatrically released internationally, broadcast on television in many countries, and streamed on Sundance Now, Fandor, Kanopy ("Most Popular" in 7 subject areas) and Netflix globally ("Most Popular" in the Critically Acclaimed section).
A graduate of Brown University with Honors, she received over 60 awards and grants for her work including a Radcliffe Institute for Advanced Study Fellowship from Harvard University, a Rockefeller Foundation Next Generation Leadership Fellowship, a National Endowment for the Arts grant and the Dartmouth College Visionary Award. Her documentaries have broadcast on television on PBS stations, cable, and internationally in many countries. Her media art projects have shown at museums and galleries including Boston's Institute of Contemporary Art, The Museum of Fine Arts, Boston, and the California Museum of Photography. She has given over 150 talks about her work at universities, museums and screening venues. Committed to helping other independent filmmakers, Canner has served on the board of directors of The Association of Independent Video and Filmmakers, the Boston Film and Video Foundation, Boston Cyberarts and White River Indie Films. She has directed an art gallery, worked for many years as a film festival programmer and served as a juror on grant panels for foundations and state funding agencies. She is the founder and director of
Astrea Media Inc
., a nonprofit organization dedicated to creating inventive projects on human rights and environmental issues.
Serena Corson
Coordinator
Serena Viola Corson is a multi-disciplinary artist, gallerist, writer, and community organizer living and working in Tallahassee, Florida. She currently works as the Website Coordinator with The Arts Oasis and as an art gallery manager at Venvi Art Gallery. She was previously a curator at Phyllis Straus Gallery.
Serena's paintings explore the relationships between women and non-binary people trying to survive under the many agonizing forms of modern life amidst the perishing environment.
Serena graduated with her BFA from Florida State University in December 2019. You can find her work at

serenaviolacorson.com.
David Kluft is an attorney, a former filmmaker and film festival director, and a long-time Astrea Media board member. He holds a B.A. from Brown University, an M.F.A in Film and Media Arts from Temple University, and a J.D. from Boston University. He lives in Cambridge, MA.
Nancy Stearns
Arts Advisor
Nancy Stearns is a

lawyer

, supporter of Astrea Media, part of the New York City cabaret community, and an avid lover of theatre and theatre-goer since childhood.
Stephanie Rothschild
Fairy Godmother
Stephanie Rothschild has spent the past 35 years managing artists and musicians in design studios and the performing arts. She helps independent creators fine-tune their artistic visions and translate them into a marketable commodity. Despite the challenges of the pandemic, Stephanie's musical artists specializing in Family Music have gone virtual. Stephanie is also a trained and certified Life Coach.
Paul Marshall
Technical Director
Paul Marshall is a tech entrepreneur, investor, and arts supporter. He is a graduate of Columbia University and lives in Mendon, Vermont where he is an avid gardener and is known for canning his own tomato sauce and making killer pickles. His company, Maxus Systems, is an award-winning application developer with a deep understanding of user interface design, human factors engineering, and content management techniques.
He is best known for his groundbreaking work while at TIAA-CREF in big data visualization

and for the development of the information landscape in virtual reality. The technology was recently cited by Popular Mechanics magazine as one of the

15 Patents That Changed The World

.
His Metaphor Mixer® interface was nominated by Intel for a Computerworld Smithsonian Award and exhibited at the Guggenheim Museum — the first exhibition of its type ever held in a major American art museum, highlighting its use in applying gameware solutions to business information management problems. You can view a documentary of the show here: Virtual Reality: An Emerging Medium
Frank Gallipoli
Arts Advisor
Frank Gallipoli is an entrepreneur, investor, and art collector and currently serves as the President of Freepoint Commodities Inc. in Stamford, CT. He is a graduate of Columbia University, where he supports arts education through the endowment of the Frank Gallipoli Professorship of Modern and Contemporary Art in the Department of Art History and Archaeology.
With a noted contemporary art interest, his collection includes seminal pieces from Keith Haring, Damien Hirst, Marcus Garvey, and others.
Susan Unterberg
Arts Advisor
Susan Unterberg is a New York-based photographer. Her work has been exhibited broadly in the U.S. and abroad, and she is represented in major public collections such as the Metropolitan Museum of Art, Museum of Modern Art, the Jewish Museum, and the Los Angeles County Museum of Art.

She has been awarded fellowships and residencies at Yaddo, the MacDowell Colony, Djerassi Artists Program, the American Academy in Rome, and Bogliasco. In 2019 she was awarded NYU's Distinguished Alumni Award.
In 2018, Unterberg stepped forward as the founder and sole funder of the Anonymous Was A Woman Award, which has awarded $25,000 grants to over 230 women-identifying artists over the age of 40 since 1996.
Celine Sutter
Graphic Designer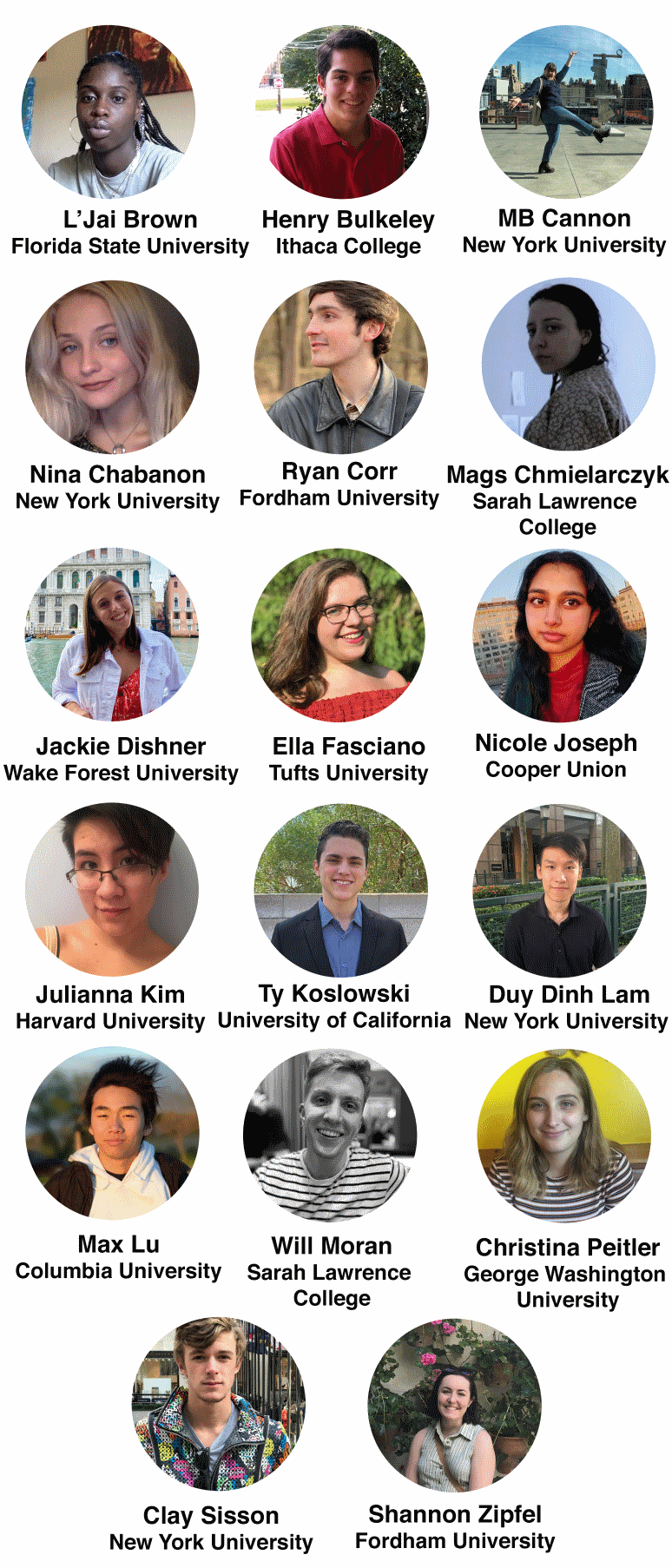 We carefully selected students from across the nation for The Arts Oasis Curator Internship. They make up a team of smart and motivated individuals who are excelling in their fields of interest. Their hard work and problem-solving skills are evident in the site.
Mags Chmielarczyk is a writer and artist based in Brooklyn.
Special Thanks
Our supporters and engineers
Alex Barnett, Beth Blenz-clucas, Carl and Carol Canner, Wendy Chun, Kristy Davis, Lisa Dierbeck, Elizabeth England, Lynn Festa, Bob Kallen, Pagan Kennedy, Dennis Livingston, Karen Moss, Lisa Randal, Susan Ryan, Lauren Sanders, Rachel Stevens, Sudeep Jain (Programming), Umer Farooq (Programming)